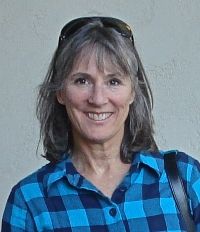 Three-time Prix Aurora Award finalist, Susan Forest is a writer of science fiction, fantasy, and horror, and a fiction editor for Edge Press. Her young adult fantasy, The Dragon Prince, won the Children's Book Choice Award. She has published over twenty short stories in Canada and the United States. Her works have appeared in OnSPEC Magazine, In Places Between, Asimov's Science Fiction, three of the Tesseracts anthologies, AE Science Fiction Review, Beneath Ceaseless Skies, Analog Science Fiction and Fact, Blood and Water, and The Urban Green Man. Her collection of short fiction, Immunity to Strange Tales, was published by Five Rivers Press, and her nonfiction has appeared in Legacy Magazine, Alberta Views Magazine and the Science Fiction and Fantasy Writers of America Blog. Her short stories, "Back," "Turning It Off," and "The Gift" were finalists for the Prix Aurora Award.
Susan has also had the good fortune to study writing with a wide range of luminaries, including Robert J Sawyer, Mike Resnick, Joe and Gaye Haldeman, Nancy Kress, James Alan Gardner, R. Scott Bakker, Dave Wolverton, David B. Coe, Walter Jon Williams, Paoli Baccigalupi, Daniel Abraham, Diana Rowlands, Adam-Troy Castro and Michael Cassutt.
Susan is a member of CAFE (Calgary Association of Freelance Editors). Technicolor Ultramall, a book she edited for Edge Press, was a finalist for the Prix Aurora Award in 2013. Her most recent recent project is Strangers Among Us for Laksa Media Groups. She has appeared as a panelist at a number of science fiction and fantasy Conventions: World Science Fiction conventions in Denver, Montreal, Reno, Chicago and Spokane; World Fantasy Conventions in Calgary, Columbus, San Diego, Toronto and Washington DC; and several smaller conventions (Calgary, Winnipeg, Vancouver, Toronto). In 2013, Susan judged the Endeavour Award for books published in the Pacific Northwest, and twice judged the Robin Herrington Memorial Short Story Contest in Calgary. She contributes to Calgary's annual literary festival, When Words Collide, as Grants Liaison. She currently serves as the Secretary for the Science Fiction and Fantasy Writers of America (SFWA). Susan teaches for the Alexandra Writers' Centre (the novel courses, the speculative fiction course and weekend-intensive courses) and presents annually at the Calgary Young Writers' Festival.
Susan is a visual artist, focusing on acrylic paintings on canvas and specializing in Western Canadian landscapes, as well as speculative fiction paintings. Susan works both from photographs and from imagination to create a wide variety of moods, themes, and colours in her art. Her work has appeared at the Calgary Stampede Western Art Gallery and Calyx Distinctive Arts.
Susan is the mother of four. Her husband writes a monthly column for Alberta's Rocky Mountain Rail Society News and his non-fiction has appeared in McLean's Magazine. Her eldest daughter, Heather, is currently pursuing her Doctorate in Creative Writing at the University of Calgary, having completed her Masters Degree in Science Fiction Studies at the University of Liverpool; Heather has a number of publications to her credit, and is the mother of one. Susan's son, Alec, has presented her with three wonderful grandsons, and daughters Holly and Amy are currently studying at the Alberta College of Art and Design, and the University of Calgary.
Awards:
For a full list of Susan's published works, see Publications.
2014 – Finalist – Prix Aurora Award – "The Gift." Urban Green Man, Summer 2013.
2012 – Finalist – Prix Aurora Award – "Turning It Off." Analog, December 2011.
2011 – Winner – The Galaxy Project – "Lucy." Juried by Robert Silverberg, David Drake and Barry Malzberg. Rosetta Books, November 2011.
2010 – Notable Online Story Finalist – StorySouth Million Writers Award – "Orange." AE SR Review, December 2010.
2009 – Finalist – Prix Aurora Award – "Back." Analog, June 2008.
2005 – Second Place – Robin Herrington Short Story Contest, "Immunity." In Places Between, 2005.
1990 – Winner – Children's Choice Book Award, The Dragon Prince. Gage Educational Publishing, 1990.