Inspire your audience with the magic of story, by inviting Guest Author, Susan Forest, to your school or function.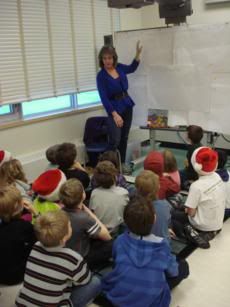 School Visits
In addition to being an author and editor, Susan has 28 years' experience as classroom teacher and will work with your staff to develop age-appropriate book talks or workshops on the topic of your choice. Some possibilities include:
Book talks / lecture / discussion / Q&A
Revision: how to add depth and detail, eliminate the irrelevant, and build action, setting and character in prose
Using drama to deepen students' experience of story, sensory detail, and structure, in preparation for writing
Planning and storyboarding fiction
Dialogue: interweaving action, description and thoughts to show setting and character while forwarding meaningful dialogue and furthering plot
The fee schedule for school visits is $200 per appearance; planning sessions with teachers are free.
Adult Education
Susan is available to teach in either lecture or workshop-style classes. Topics can include:
Basics of writing: structure of the short story or novel; character, setting, plot and theme
Self-editing and revision for strong prose: language choice; point-of-view; voice; balancing action, description and internal monologue
Science Fiction, Fantasy and Horror: conventions and techniques
Support for your writing: finding time; working with writers' groups; working with editors
The Business of Writing: cover letters, organizing submissions, synopses, meeting agents and editors, pitching, contracts, taxes and self-promotion
Readings and Conventions
Invite Susan to read aloud from her published or upcoming works, or to join your convention as a speaker or panelist.
Past Appearances:
Calgary Young Writers' Conference: guest author (student category) annually since 1990
Schools: Queen Elizabeth Junior High School, Vista Heights Elementary School, Kingsland Elementary School, Montgomery Junior High School, Dr. E. P. Scarlett High School, Chaparral Elementary School, William Reid School (French Immersion–I can do presentations to young students in fairly fluent French), and Erin Woods School, in Calgary, Canada.
Writers' Conventions: World Science Fiction Convention (Denver, Montreal, Reno, Chicago, Spokane); World Fantasy Convention (Calgary, Columbus, San Diego, Toronto, Washington, DC), When Words Collide (Calgary), ConVersion (Calgary), KeyCon (Winnipeg), SF Contario (Toronto), V-Con (Vancouver)
Upcoming
Testimonials
M. Veronese, Chaparral School, Calgary: "Thank you again for today and ALL of the sessions you planned and worked through with my class. The students are so motivated. You really have a talent inspiring young writers."
H Lytwyn, William Reid School, Calgary: "Having a published author was an inspiration for the students."
L Iverson, student of "A Novel Approach" the year-long novel-writing course at the Alexandra Writers' Centre: "You have an amazing talent to see things clearer than I ever do. I can not even put words to it, but I appreciate it so much, especially when it's my work your talking about. It's like you bring a new lens and focus to things I have not yet learned how to see. It was because of you that I re-wrote a turning point chapter. I had Arie removing her gloves because I knew it needed to happen, but until you pointed out that finally her character was being pressed to change, I sincerely did not see it that way. It changed how I proceeded – great!"
J. Thompson, student of "A Novel Idea," the ten-week novel-writing course at the Alexandra Writers' Center: "I really wanted to thank you for a fantastic ten weeks. I've learned so much and had a great time at every single class (even, to my surprise, when it was my turn to submit!), and I really appreciate all of the time and effort you put into making sure it was such a wonderful experience for all of us."
Anonymous, student of "Backstory Secrets," a one-day workshop at the Alexandra Writers' Centre: "The course was far exceeding my expectations. Extremely helpful. The best feature was the openness and conversation that specifically related to each manuscript. I will definitely be back to take part in future courses."
D. L. Wybert, student of "Editing 101": "I thought you were masterful in fielding all the questions and comments at the talk on Saturday."