Blog Posts
October, 2018: My Favorite Bit with Mary Robinette Kowal. Susan and Lucas Law talk about Shades Within Us: Tales of Migrations and Fractured Borders.
September, 2018: Whatever: The Big Idea with John Scalzi. Susan and Lucas Law discuss Shades Within Us.
April, 2018: The Story Behind the Stories with Orson Scott Card's Intergalactic Medicine Show. Susan describes how she wrote her short story "The Fat Man."
April, 2018: Fictorians: Organizing Critique Comments for Implementation. Susan's techniques for working with comments from multiple different readers.
March, 2018: Unblocking Ideas (Analog Science Fiction and Fact). Different ways of writing your way out of writer's block.
July, 2016: The Pleasures of Anthology Editing (SFWA Blog). Susan's award-winning editorial work as an anthologist.
July, 2014: Backstory Secrets (SFWA Blog). Susan discusses tips and techniques for sprinkling backstory through a work that begins in media res.
Magazine Articles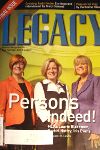 Grandpa's Kitchen
A haunting, love-filled memory of a hidden mountain valley Susan's children call "Grandpa's Kitchen." Her father, renowned mountaineer, Don Forest, was first and foremost a family man, and loved nothing better than to pass on his love of the mountains to his children and grandchildren. Now that her father has passed away, it is Susan's ongoing legacy to share the ways of the mountains with her children. Legacy Magazine, 2009.