Flights of Marigold

Meg and Janat Falkyn, fugitive daughters of an imperial magiel, escape to the edge of the world to restore their people's access to their Gods—by recapturing a fabled prayer stone. But to accomplish the theft, whom can they trust? The ambitious High King's sister thirsts for power. A calculating regent enriches himself with a steam-driven textile monopoly. A charming swindler sets up an elaborate scheme. And unraveling secrets hidden in castles, alleyways, and brothels threaten to expose everything. With rebels stalking the sisters, and the High King's armies on the march, Meg's time is up.
Book Two of the Addicted to Heaven series.
Bursts of Fire
Bursts of Fire beings an epic political fantasy of revenge, addictions, and redemption. In an empire where magic has become suspect, love and loyalty—for one's lover, one's family, one's country—are tested. If Heaven desires the very earth be burned, what place can those below hope for, when the flames come for them?
Book One of the Addicted to Heaven series.
---
Immunity to Strange Tales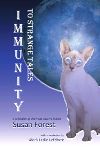 Susan Forest's first collection of short fiction, Immunity To Strange Tales, was launched at the When Words Collide conference in Calgary, August 10-12, 2012. The collection contains nine reprints, including "Back," finalist for the 2009 Prix Aurora Awards (short fiction category) as well as three new stories: "Killing the Cat," "The Way Back," and "The Strange Tale of–" Five Rivers Press, 2012.
---
The Dragon Prince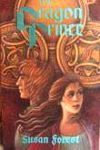 When her father and the other villagers organize a search party for the dragon that preys on their homes, Kathleen enlists the help of her mysterious friend, Callum, to find the dragon first. What she does not know in her quest to save the magnificent beast, is that Callum has his own reasons for wanting to kill it.
Published in 1990 by Gage Educational Publishing in Agincourt, Ontario, Canada, it was awarded the Children's Circle Book Choice Award, and was chosen by Gage as one of two young adult novels to represent the company at an international book fair in Berlin, in 1991.